YOSVITA™- NUTRISHAKE is powered by clinically researched ingredients & vital nutrients which to support
IMMUNITY With 21 IMMUNO-NUTRIENTS YOSVITA™- NUTRISHAKE helps boosting immunity by working at a cellular level to support the function of immune cells so they work harder to protect you. It is packed with a unique proprietary blend of most potent immunonutrients backed up by strong science.

Wellmune® is a 100% natural yeast beta glucan derived from a highly purified proprietary strain of beta 1,3/1,6 glucan (Saccharomyces cerevisiae) from baker's yeast supported by more than USD 350 million in research & development.
It is safe for everyday consumption, clinically proven to help strengthen our immune system & helps to promote healthy energy levels & mental clarity.
YOSVITA™ with Wellmune® beta glucan will keep the innate immune system active & primed, helping to kill pathogens that attack our body.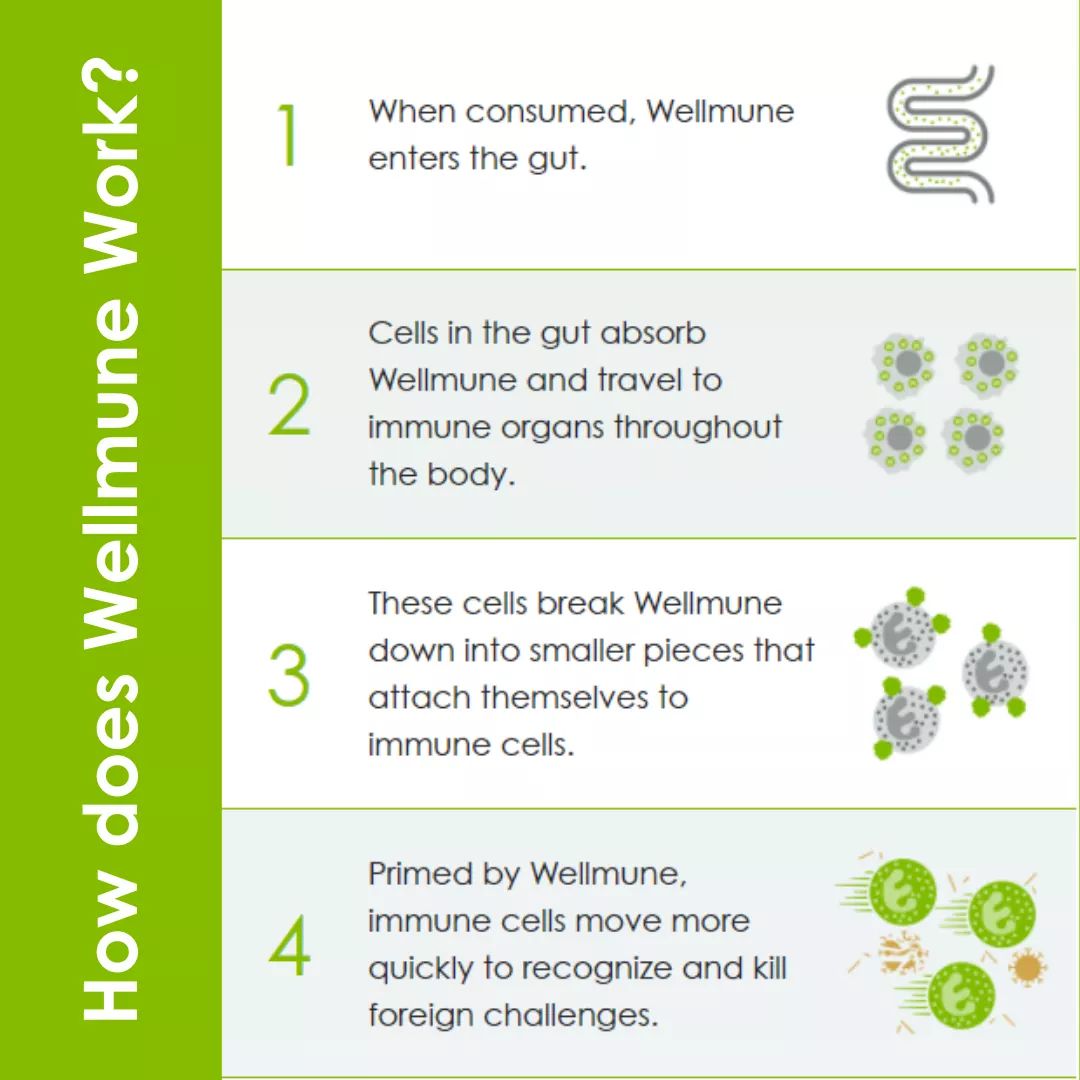 to learn more about the mechanism of action.
BCM-95® bio-available curcumin
Turmeric has a 4000 years long history of medicinal use in Ayurveda. Curcumin is the main active ingredient in turmeric. It has most powerful anti-inflammatory & antioxidant properties.
YOSVITA™ is enriched with BCM-95® curcumin which is world's most researched bio-available curcumin backed by 68 clinical studies worldwide. It is 700% more potent than regular 95% turmeric. It's proven to deliver 10x more curcumin into the blood stream than regular curcumin extracts & remains active for over 8 hours. Curcumin is a powerful immunity enhancer that helps our body to strengthen its own defence mechanism naturally, protecting from minor infections to serious diseases. It also supports-
Joint health
Cognitive health
Liver support
Urinary support
Mood & stress support
Healthy inflammatory response
Other Immuno-nutrients in YOSVITA:
Vitamin A, C, D, E, B2, B6, B12, B9
ZINC
IRON
SELENIUM
CALCIUM
PROBIOTICS
DIETARY FIBRE
PROTEIN
OMEGA 3
MCT
DIGESTION YOSVITA™- NUTRISHAKE has a synergistic blend of probiotics & prebiotics that beneficially affects the host by improving the survival and activity of beneficial microorganisms in the gut & thereby improves gastrointestinal health.
It helps maintaining a healthy colony of bacteria & other microorganisms, which supports the gut & aids digestion.
With 9 nutrients that support gut health
Probiotic- Bacillus cogulans
Probiotics are live "good" microbes that, when ingested in adequate amounts can provide numerous health benefits. Probiotics are present in our digestive tract. It helps in maintaining our gut health and the natural balance of the microflora in the intestine. A large majority of the body's immune system (70%) is located within the intestines. So a healthy gut can promote a healthy immune system. Probiotics can normalize gastrointestinal microflora & helps reduce occasional digestive upsets like diarrhoea, abdominal gas and bloating* YOSVITA™ contains Bacillus coagulans Unique IS-2, which is a safe, natural & stable probiotic, which helps in
Everyday gut & digestion support
Digestive comfort & immune defences
Antibiotic support & recovery
Reducing abdominal gas, bloating or flatulence
Prebiotic- Soluble corn fibre
Prebiotic is a food for probiotics. Prebiotics are a type of carbs, mostly dietary fibres, when consumed, pass through the small intestine into the large intestine where they may be partially or completely fermented by colonic microbes. They promote the growth of beneficial bacteria while limiting the growth of less desirable bacteria.
YOSVITA™ contains soluble corn fibre as a prebiotic. Soluble corn fibre acts as both a prebiotic fibre as well as a soluble fibre in your digestive tract. This has led researchers to validate effectiveness & demonstrate physiological health benefits of soluble corn fibre, including-
Promotes digestive health by its prebiotic properties
Promotes healthy laxation.
May assist with healthy weight management by providing minimal calories
Supports healthy blood glucose levels by decreasing postprandial glycaemic response
May support bone health by increasing calcium absorption and bone calcium retention
Other nutrients which supports digestion:
VITAMIN B COMPLEX
Vitamin C
Vitamin D
ZINC
IRON
MAGNESIUM
MCT
MEMORY & FOCUS YOSVITA™- NUTRISHAKE comprises of brain booster blend that stabilizes mood, improves memory, focus & concentration.
It helps enhancing memory, learning & focus; helps reducing stress, anxiety, cortisol levels.
13 nutrients to support memory, focus & mental health

Ashwagandha (Withania somnifera) is an adaptogenic herb used for centuries in Ayurveda. Ashwagandha promotes balance in the body. As an adaptogenic herb it helps the body to successfully adapt to stressful conditions as it increases resistance to psychological & physiological stress. It promotes overall vitality.
KSM-66® Ashwagandha is regarded as World's Best Ashwagandha, as it's a highly concentrated, organic, most bioavailable full-spectrum root extract with over 10 years of clinical research and development. It has largest pool of research & clinical studies with 24 studies, followed by 'Gold standard': Double-blind, placebo-controlled, randomized studies.
KSM-66 Ashwagandha has been clinically proven to:
Help reduce stress, anxiety, cortisol levels and stress-related food cravings*
Help promote enhanced memory and cognitive function*
Help promote endurance, strength, muscle size and muscle recovery rate*
Help enhance testosterone & increases fertility in men*
Omega-3 fatty acids (DHA)
Omega-3 fatty acids are a key polyunsaturated fats that are important for normal cell function & protective against inflammation-related health conditions. Especially, docosahexaenoic acid (DHA), a long chain omega-3 fatty acid that is abundantly found in the brain & eye.
From long time, fish or other marine sources were used as a source of DHA & thus unsuitable for vegetarians. YOSVITA™ uses a pure, premium algal DHA that can effectively ensure vegetarians get the wide range of health benefits of DHA.
Research confirms that DHA plays a crucial role in all stages of life. From the last trimester of pregnancy to early childhood, it is essential in brain development. For adults, it helps improve cardiovascular health & reduces the risk of other metabolic diseases. Studies have shown that having a DHA supplementation may prevent mild cognitive decline & dementia.
Benefits of DHA:
DHA is essential for the development of the retina, brain & the neural system.
DHA helps to prevent mild cognitive decline & dementia.
DHA contributes to the maintenance of normal blood triglyceride levels & thus contributes to the normal function of the heart.
Other nutrients that supports memory & focus:
VITAMIN B1, B2, B6, FOLIC ACID, B12
Vitamin C
Vitamin D
ZINC
IRON
MAGNESIUM
MCT